The rookie retires 18 consecutive batters after a single and a walk in the first inning, improving to 7-2. The Dodgers have won 14 of 15.
LOS ANGELES ― There was a time in the recent past when Bobby Miller was a toolkit, a 24-year-old with a blazing fastball, a bending slider, and two other pitches he could throw for strikes.
More and more, Miller is looking like a bona fide major league starter.
Tuesday night against the Milwaukee Brewers, Miller allowed a leadoff single to Christian Yelich. He walked William Contreras. Then he retired the next 18 batters in order as the Dodgers cruised to a 6-2 victory before an announced crowd of 46,050 at Dodger Stadium.
A five-run sixth inning allowed the Dodgers (72-46) to pull away for their ninth win in a row, and their 14th in their last 15 games. Milwaukee (65-55) saw its four-game winning streak end in the first of three games between the leaders of the NL West and NL Central divisions.
Miller (7-2) allowed one run, one hit and one walk in six innings. He struck out four batters, and lowered his ERA to 3.70. Although he insisted it was not his finest combination of command and pure stuff this season, the results begged to differ.
"I thought the slider was not as good as it normally is," Miller said. "There were a lot of really good takes with the slider; I'd have to go back and look at some of them. The changeup came into play later in the game. The changeup command wasn't as good at the beginning of the game. When the changeup's there, it helps a lot of my other stuff, instead of just fastballs and breaking balls. I need my changeup in there as well."
Miller is still flashing the tools that got him here. His four-seam fastball touched 101 mph, and his sinker yielded only weak contact against the Brewers. Of the 134 triple-digit pitches the Dodgers have thrown this season, Miller is responsible for 116 of them.
When the Brewers did hit the ball hard, the Dodgers were ready. Center fielder James Outman preserved Miller's streak of 18 consecutive outs by making a diving catch in center field in the sixth inning.
"He reminds me a lot of Walker (Buehler) on the mound," Dodgers utility player Kiké Hernandez said. "He's got great makeup on the mound, a great attitude, power arm with really good offspeed pitches. Sometimes there's outings like (Tuesday) where you can't really tell how young he is."
If Miller can replicate his methodical dismantling of a veteran Milwaukee lineup, the Dodgers will have a difficult decision come October. Clayton Kershaw, Julio Urías and Lance Lynn all have postseason experience. So does Buehler, who is vying to join the rotation in September if his recovery from elbow surgery continues unabated.
While he spoke often about focusing on the present, Miller is becoming a realistic candidate to start a postseason game.
"If I'm just commanding the ball I think I can be a 'count-on' guy," he said. "I'm trying to prove to myself that I can be a 'count-on' guy, the guy I want to be. I'm just going out there and competing every day, keeping the head down, keep the tunnel vision, and just keep commanding the baseball."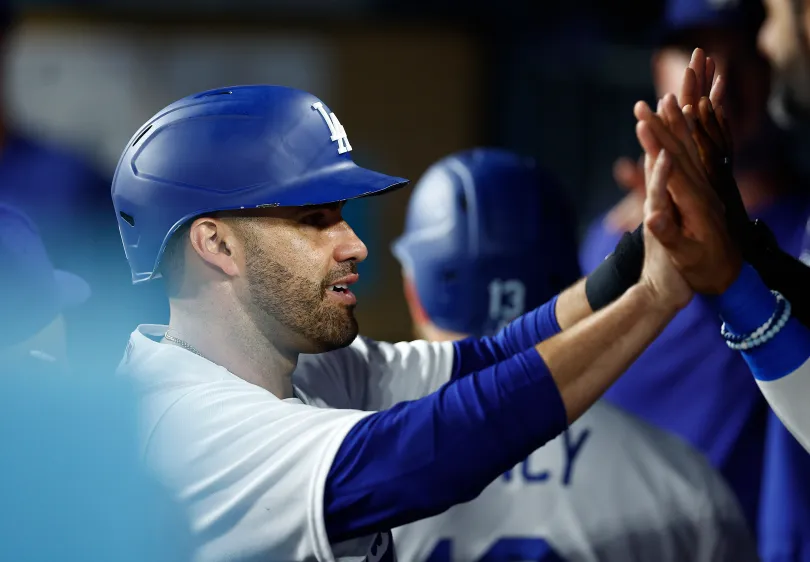 Left-hander Ryan Yarbrough pitched three innings in relief of Miller, allowing only a solo home run by Carlos Santana to earn his first career save.
After struggling for four innings against Brewers starter Adrian Houser (4-4), the Dodgers tied the score at 1-1 in the fifth when David Peralta scored on a Miguel Rojas groundout.
In the sixth inning, the Dodgers chased Houser with a long rally. Will Smith reached on an error. Max Muncy singled. J.D. Martinez, making his first start at designated hitter since Aug. 6, hit a double to score Smith with the go-ahead run.
Left-hander Hoby Milner replaced the right-handed Houser, and the Dodgers deployed their customary substitutions. Hernandez, a right-handed hitter, pinch hit for the left-handed Peralta and delivered a pinch-hit single. Muncy and Martinez scored to put the Dodgers ahead 4-1.
Back-to-back singles by Rojas and Mookie Betts scored Hernandez and James Outman to complete the rally.
By then, Miller's rocky start felt like a distant memory.
"It seemed like after that, he just reset," said Roberts, whose team is a season-best 26 games over .500 and has its longest winning streak since taking 12 in a row from July 31-Aug. 13 last year. "I'm really proud and impressed by the way he's managing major league lineups right now."
Bobby Miller, 101mph ⛽️ pic.twitter.com/aEBAo6lUU5

— Rob Friedman (@PitchingNinja) August 16, 2023
Welcome back, J.D.! pic.twitter.com/x9LabKS9Gy

— Los Angeles Dodgers (@Dodgers) August 16, 2023
Keep em' coming! Mookie makes it a 6-1 #Dodgers lead. pic.twitter.com/WdFLgRzW5z

— SportsNet LA (@SportsNetLA) August 16, 2023