With the Hollywood actors and writers strikes continuing, another award show has been affected and forced to make last-minute changes.
The 75th Primetime Emmy Awards is being postponed due to the strikes after it was supposed to air on Sept. 18. A new date and host for the ceremony hasn't been announced, with the ceremony airing on FOX, according to the Hollywood Reporter.
News of the Emmys change marks the first time the award show was postponed since 2001 after the Sept. 11 attacks, but the awards were presented in November, USA Today noted. 
Earlier this month, Emmy nominations were announced on July 12 before the start of the SAG-AFTRA strike. 
HBO dominated the 2023 nominations led by "Succession" with 24 nominations.  "Succession," "The White Lotus" and "The Last of Us" combined for an astonishing 74 nods, the Associated Press noted. 
The Tony Awards took place in June amid the strike with tweaks to the ceremony show, which featured no scripted fun during the presentation of awards. 
The writers have been on strike since May, and the actors joined them earlier this month. Both unions are worried about how they will be paid at a time when fewer people are paying to go to the movies or watch cable TV in favor of streaming services.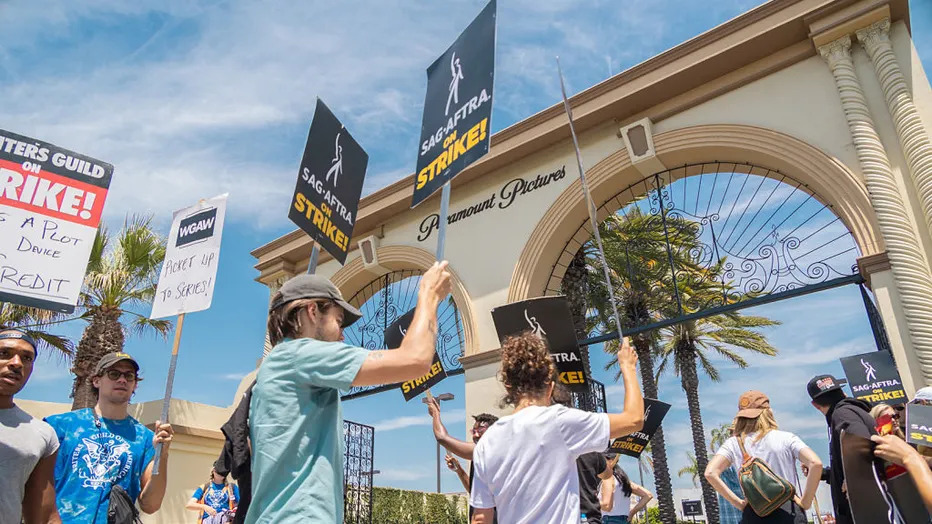 It's the first strike for actors from film and television shows since 1980. And it's the first time two major Hollywood unions have been on strike at the same time since 1960 when Ronald Reagan was the actors' guild president, according to the Associated Press.  
California Gov. Gavin Newsom has offered to help negotiate an end to the strikes that have hobbled Hollywood. 
What other award shows have been postponed because of the strikes?
In May, the Daytime Emmy Awards, set for June 16 in Los Angeles, was postponed due to the writer's strike.
The MTV Movie & TV Awards switched to a pre-taped telecast featuring clips and packages after the union vowed to picket the live broadcast that was scheduled to take place in Santa Monica. Host Drew Barrymore dropped out to honor the striking writers.
The Peabody Awards scrapped plans to stage an in-person ceremony on June 11. The strike has also disrupted the PEN America gala.
SAG-AFTRA represents over 160,000 screen actors, broadcast journalists, announcers, hosts, and stunt performers. 
According to the AP, the walkout affects only the union's 65,000 actors from television and film productions, who voted overwhelmingly to authorize their leaders to call a strike before talks began on June 7.
The 11,500 members of the Writers Guild of America have been on strike since their talks collapsed and their contract expired on May 2. The work stoppage has shown no signs of a solution, with no negotiations even planned.
The Associated Press contributed to this report.  This story was reported from Washington, D.C.