Billionaire businessman Ruben Vardanyan moved to Nagorno-Karabkh in 2022 and served as head of the regional government for several months.
Azerbaijan has arrested the former head of Nagorno-Karabakh's separatist government as he tried to flee into neighboring Armenia along with tens of thousands of others who fled the region following Azerbaijan's military operation last week.
The arrest of Ruben Vardanyan on Wednesday was announced by Azerbaijan's border guard service.
Vardanyan, a billionaire businessman who made his fortune in Russia where he owned a major investment bank, moved to Nagorno-Karabakh in 2022 and served as the head of the regional government for several months before stepping down earlier this year.
His wife Veronika Zonabend said on his Telegram channel that he had been arrested while trying to flee as part of a mass departure by ethnic Armenians after Azerbaijan took back control of Karabakh in a swift offensive last week.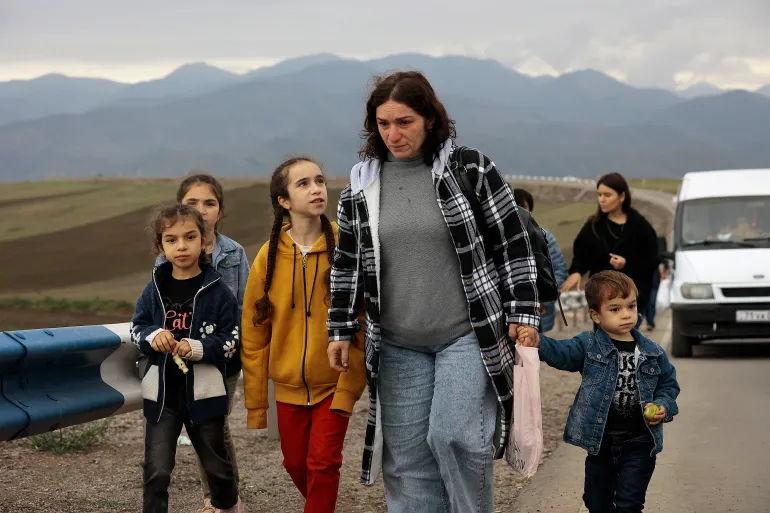 Azerbaijan had previously expressed reservations about Vardanyan, calling him an obstacle to peace. Moreover, his relations with Armenia's Prime Minister Nikol Pashinyan – over the role of Russian peacekeepers – were also strained.
Azerbaijan's border service said he had been taken to the capital Baku and handed over to other state agencies.
Nagorno-Karabakh is recognised internationally as part of Azerbaijan, but the 120,000 ethnic Armenians living there dominate the region. Baku and Yerevan have been vying for control over the region for decades and have fought two wars.
Many ethnic Armenians are fleeing, abandoning their homes and boarding cars and trucks that have clogged the snaking mountain road that leads to Armenia.
Karabakh authorities said more than 50,000 had left so far. Azerbaijan has rejected Armenian accusations of ethnic cleansing.
Azerbaijan's Foreign Minister Jeyhun Bayramov said at the United Nations on Thursday that his country is determined to guarantee Nagorno-Karabakh residents "all rights and freedoms" in line with the country's constitution and international human rights obligations, including safeguards for ethnic minorities.
Calls for independent investigation
The European Union said it was sending more humanitarian aid "in solidarity with those who had no choice but to flee" – a significant change from an earlier statement where it referred to people who had "decided to flee".
UN Special Rapporteur Morris Tidball-Binz said Azerbaijan must "promptly and independently investigate alleged or suspected violations of the right to life reported in the context of its latest military offensive in Nagorno-Karabakh".
Meanwhile, German Foreign Minister Annalena Baerbock has called on Azerbaijan to be transparent when it comes to a potential international observer mission to the fought-over Nagorno-Karabakh region.
"We look to Nagorno-Karabakh with the greatest concern. Nobody really knows how the people there are doing and what they have to go through," Baerbock said on Wednesday, according to a statement.
The US State Department said it will work with allies and partners in coming days on an international monitoring mission.
Matthew Miller, the State Department spokesperson, told journalists that despite Russia facilitating negotiations in the past, something that Washington has welcomed, its role in the past week has not been productive.