The lowest average salary American workers are willing to accept when starting a new job has hit a record high, according to a survey from the Federal Reserve Bank of New York. According to the July employment survey published on Monday, the average "reservation wage"—the minimum salary required for switching jobs—jumped to $78,645 in the second quarter of 2023.
This new record salary requirement marks a year-over-year increase of nearly 8% since Q2 of last year, when the average reservation wage was roughly $72,873. This is also the largest spike since 2014 when the data series was first compiled. Since the outbreak of COVID-19 in 2020, which coincided with record inflation, reservation wage demands have increased by 22%.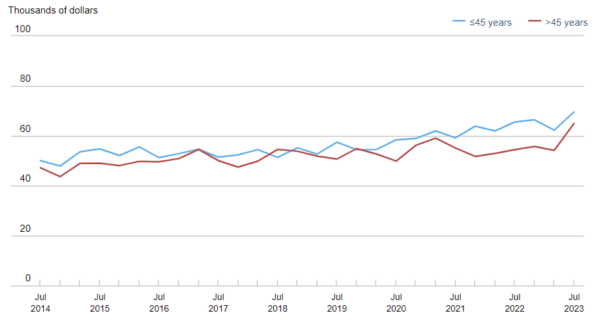 Broken down by category, workers over 45 saw the biggest increase in the last year, and workers with a college degree now expect an annual salary of as much as $98,600. For the last several years, the tight job market has worked in employees' favor, allowing them to seek out new jobs that offer higher wages and better hours. The so-called "Great Resignation" has seen a surplus of job openings and a shortage of workers across nearly every sector, with the latest Fed Data showing 9.6 million positions open at the end of July—an average of 1.6 jobs for every unemployed worker.
However, the rapid wage growth brought on by the state of the job market has also been a key factor in increasing inflation for the last two years. Employers have been attempting to match the higher salary demand, although average increases in actual wages have failed to meet the expectations. The average starting full-time offer is up 14% in the last year for a total of $69,475.
This substantial increase extended over several years has the potential to cause a wage-price spiral, in which increased prices for consumer goods cause workers to demand higher salaries, prompting companies to raise prices further to offset labor costs.
"I think many, many analysts believe that it will be an important part of getting inflation down, especially in the non-housing sector, to getting wage inflation back to a level that is sustainable, that is consistent with 2% inflation," Federal Reserve Chairman Jerome Powell said in June.
But amid the Fed's efforts to offset the risk of runaway inflation, there are signs that the job market is returning to pre-pandemic normal as interest rates rise. Employers added 187,000 jobs in July, down from 209,000 in June, showing that demand for workers is slowly receding as positions are filled.