The movie frames itself as an expose about global child trafficking.
While "Barbie" and "Oppenheimer" opened with record numbers this weekend, another sleeper hit has been quietly dominating the box office.
"Sound of Freedom," a thriller about a former Homeland Security agent battling human trafficking, has grossed $124 million since its release on July 4.
The weekend of July 21 to 23, it even outgrossed "Mission: Impossible — Dead Reckoning Part One," according to Rotten Tomatoes, taking third place in earnings behind the "Barbenheimer" behemoth.
As "Sound of Freedom" soars in the box office, controversy around the movie is on the rise, too. Here's what to know.
What is 'Sound of Freedom' about?
"Sound of Freedom" is based on the real story of Tim Ballard, a former U.S. Department for Homeland Security agent who conducts sting operations to rescue a young brother and sister from human trafficking in Colombia.
Jim Caviezel, who portrayed Jesus in Mel Gibson's 2004 movie, "The Passion of the Christ," plays Ballard in the movie.
According to a description of the movie from Angel Studios, the movie depicts Ballard's "relentless pursuit of justice exposes the dark underbelly of this global crime, leaving an indelible impact on the fight for freedom."
The movie includes fictionalized versions of some real-life people, including Ballard and his wife, Katherine Ballard. According to Angel Studios, many of the movie's supporting characters are based on, or inspired by, real-life trafficking victims and perpetrators that Ballard reportedly encountered during his rescue missions.
Ballard has been part of the "Sound of Freedom" press tour, but he recently stepped away from Operation Underground Railroad, the group he founded, OUR confirmed to TODAY.com.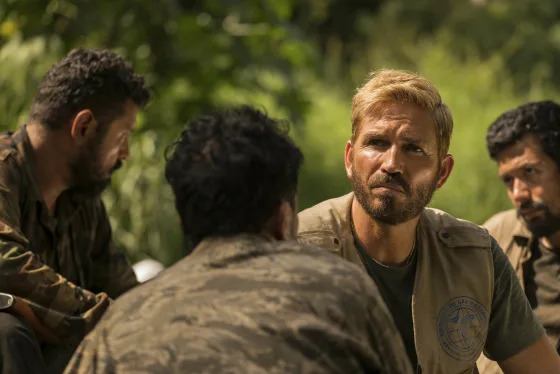 Why is 'Sound of Freedom' sparking controversy?
Some experts have challenged the factual accuracy of "Sound of Freedom," saying it paints an inaccurate, sensationalized picture of child trafficking.
The film portrays children being snatched and kidnapped by strangers. While this can certainly happen, it's a myth that most traffickers "target victims they don't know," according to Polaris, an organization that operates the U.S. National Human Trafficking Hotline.
In fact, "many survivors have been trafficked by romantic partners, including spouses, and by family members, including parents," Polaris notes.
In a recent Rolling Stone interview, Erin Albright, an attorney with extensive experience in the anti-trafficking field, called the movie's portrayal of trafficking "sensational" and said it perpetuates unhelpful and even harmful myths.
Albright argued that when popular movies promote the narrative that trafficking involves forceful kidnapping and imprisonment, it makes it harder for people to grasp more complex trafficking cases, such as cases of coercive control or psychological manipulation.
"When you have a case of really subtle coercion that's hard to prove, and the jury is expecting 'Taken,' you're not gonna get a conviction … and it makes that much harder for survivors," Albright told Rolling Stone.
In their recent blog post about "Sound of Freedom," distributor Angel Studios acknowledged that the movie's portrayal of child trafficking does not necessarily reflect the way trafficking occurs in the real world.
"It is worth noting that the movie took creative liberties in depicting the different methods of child trafficking," the distribution company wrote. "While instances do exist where children are transported in various vehicles, the majority of trafficking occurs through a manipulative grooming process."
The company also noted that "in the beginning of the film, real security camera footage is shown depicting various kidnappings. While such incidents do occur in the realm of human trafficking, it's important to recognize that they do not represent the majority."
Why are some people linking 'Sound of Freedom' to QAnon?
Some critics of "Sound of Freedom" take issue with its popularity among supporters of QAnon, a far-right conspiracy group that promotes the baseless claim that former President Trump is fighting a secret war against a network of "Satanist child abusers in government entertainment and the media." QAnon's theories proliferate on social media.
"Sound of Freedom," which finished filming in 2018, does not have any plotlines centered around the QAnon movement. Neal Harmon, CEO of Angel Studios, has rejected the idea that the movie promotes any conspiratorial views.
"Anybody who watches this film knows that this film is not about conspiracy theories," he told The New York Times this month. "It's not about politics."
While the film itself does not endorse any QAnon talking points, some high-profile supporters of QAnon have been promoting the movie — including the film's star, Jim Caviezel, who has publicly voiced QAnon views in the past.
According to The Daily Beast, Caviezel has spoken at multiple QAnon-themed events, and has shared his belief in "adrenochroming," a baseless conspiracy claim that elite members of Hollywood are killing children to harvest a special substance from their blood.
TODAY.com has reached out to Caviezel comment.
Former president Trump, who has shared QAnon-related social media posts in the past, has also publicly supported the movie.
"Sound of Freedom has been a national sensation and a colossal success at the box office, really big numbers, everyone should see it," Trump said in an email to supporters, according to The Guardian. "This is a very important film and very important movie and it's a very important documentary all wrapped up in one. It's really about an issue that has to be discussed."
The former president hosted a screening of "Sound of Freedom" at his golf club in Bedminster, New Jersey, on July 19.
Trump's former strategist, Steve Bannon, attended the screening and said the movie could "unite the country," according to The Guardian.
'Sound of Freedom' has a 'pay it forward' scheme
Angel Studios' introduced unconventional, grassroots "Pay it Forward" scheme to bring people to the theater.
Star Caviezel explained the intent behind the scheme at the end of the trailer for the film was to help people "hear the story" of trafficking children.
"Our goal is to inspire two million people to attend the film's opening weekend to represent the two million traffic children around the world," he said. "Angel Studios set up a pay it forward program where you can pay for someone else's ticket who might not otherwise see it. If the ticket price is stopping from attending, claim your free ticket."
According to the studio's website, the goal was far exceeded, with over 10 million sold so far.
When people go to see "Sound of Freedom," a message at the end of the movie urges people to buy additional tickets online to cover "the cost of actual movie tickets for someone who would not otherwise be able to see the film."